Kitchen Table Advisors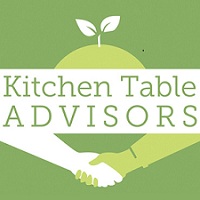 Service Area

Northern California
Donate to this Project
The challenge:
Sustainable, local farming is a capital-intensive business, with thin margins and high barriers to entry. Many farmers work long hours, yet struggle to earn the equivalent of minimum wage.  And the failure rate for new farms is high: more than half go out of business within their first five years and at 15 years, the failure rate for farms is 75%. On their own, small farms often lack the capacity to bring their food products to larger markets, thus further increasing their likelihood of failure. The San Francisco Bay Area has already lost 217,000 acres of farm and ranch land to urban sprawl since 1984. The limited land that remains carries a high premium, which stymies access to both leasing and purchasing farmland, and renders new enterprises or growth nearly impossible for most small-scale farmers.  Accompanied by California's drought, wildfire and water access issues, farmers in Northern California face a constant uphill battle to sustain local farms.
What can be done?
We can design a healthier food system built upon a solid foundation of thriving sustainable small farms. Helping small, family-run businesses survive and thrive supports economic development and community vitality, particularly in rural communities throughout Northern California. When they are financially stable, small farms create community-based jobs for low-income workers, produce healthy food, ensure regional food security, and generate positive economic activity throughout the region.
How Kitchen Table Advisors is meeting the challenge:
Kitchen Table Advisors fuels the long-term economic viability of environmentally-sustainable small farms and ranches in Northern California. The farmers in KTA's client portfolio are some of the neediest, the most difficult to reach, and least likely to respond to traditional outreach methods. KTA's two-pronged approach includes:
KTA's core program provides in-depth, one-on-one business advising, financial management coaching, and training for diverse, low-income, sustainable farmers and ranchers, so they have the tools to ensure their businesses will thrive over the long term.
KTA's "regional ecosystem building" program focuses on improving access to land, sales markets, and financing for small scale, organic and sustainable farmers and ranchers, especially for farmers of color, immigrants, and women who are underrepresented in the profession.
By supporting small farms and helping shape the marketplace, KTA deepens its impact on the livelihoods of farmers and ranchers while influencing more systemic change with ripple effects throughout the region and beyond.
See all of our active projects