Turn Forward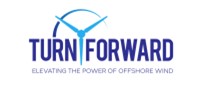 The challenge: Offshore wind power is a once-in-a-lifetime opportunity—a unique renewable resource with game-changing potential to increase clean, domestic energy production over the next decade. While there are thousands of offshore wind turbines spinning around the world, only 7 are currently installed in US waters. In order to meet clean energy mandates and achieve a net-zero future, large scale offshore wind development will be needed.  The acceleration of offshore wind power, however, must occur in ways that can secure and maintain durable public support over decades. 
What can be done:  Turn Forward believes that, by 2025, the federal government and states should be actively pursuing the generation of 100+ gigawatts (GWs) of offshore wind power with strong policies in place to maximize local benefits and ensure environmental protections. Establishing this solid foundation is essential for ensuring a successful trajectory for this critically needed new clean energy industry in the U.S.
How Turn Forward is meeting the challenge:  Turn Forward is a new, independent, non-profit organization dedicated to advancing an ambitious vision for American offshore wind power at this pivotal moment. Turn Forward aims to increase momentum for policies and projects that significantly expand offshore wind power with the worker, community and environmental outcomes needed to secure and maintain broad-based support as the industry matures in the US. Working collaboratively with allied, diverse partners, Turn Forward will: advocate for a proactive policy agenda; amplify the ways in which offshore wind policies and projects are creating tangible benefits; support federal and state leaders committed to advancing offshore wind power in a manner that delivers benefits and environmental protections; create durable public support for American offshore wind power needed to achieve 100+ GW and beyond.
See all of our active projects