Multiplier Project, Root Solutions, Receives Nautilus Award for "Making Shift Happen"
October 25, 2023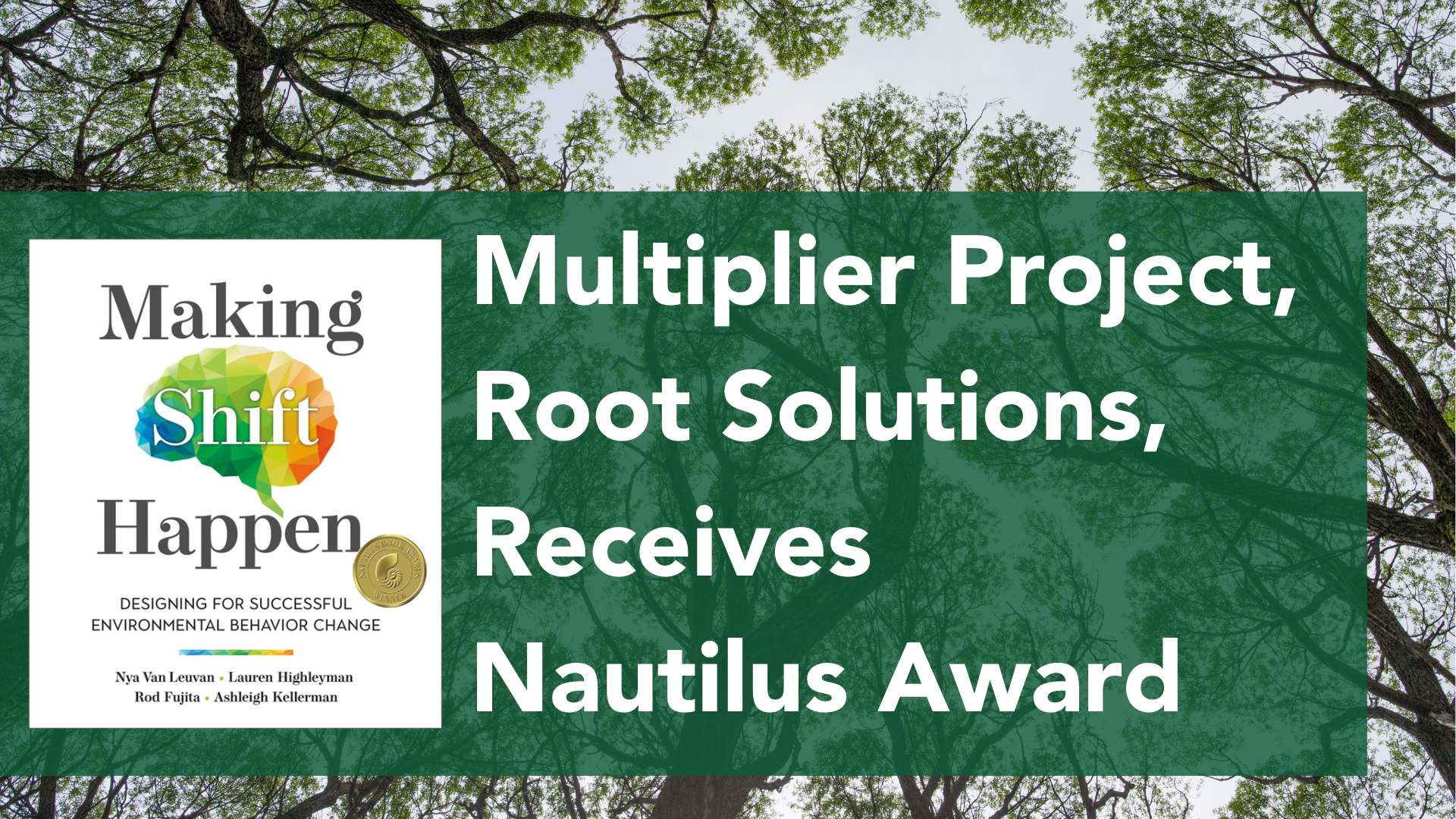 "Our most pressing environmental problems are actually human behavioral problems – so it's imperative for our field to understand behavioral sciences as well as we understand environmental science," says Nya Van Leuvan, Founder and Executive Director of Root Solutions, a project of Multiplier, and co-author of the award-winning book, Making Shift Happen.
Making Shift Happen addresses the human dimension of environmental challenges and provides guidance for designing environmental behavior change initiatives. Recognizing books that "make a difference and inspire," it's no surprise that Nautilus Book Awards awarded Making Shift Happen (authored by Nya Van Leuvan, Lauren Highleyman, Rod Fujita, and Ashleigh Kellerman) a Gold Medal in Social Sciences & Education. Root Solutions is honored alongside notable fellow winners like Thích Nhất Hạnh, Barbara Kingsolver, Deepak Chopra, and Robin Wall Kimmerer. Multiplier is thrilled to celebrate Root Solution's recognition, as it marks a significant milestone in their mission to empower individuals and communities, inspiring effective action for a sustainable future.
The Need for Behavior Change
The need for urgency in solving our most pressing environmental challenges is widely recognized; less recognized is the interconnectedness of behavior and environmental outcomes to effectively make lasting change, though this is no less urgent. If we are to solve intractable and wicked environmental problems, then large numbers of NGOs, foundations, agencies, businesses, and other entities must deepen their capacity to adaptively change the behavior of individuals and institutions on a large scale.
We often think of behavior change as persuading individuals to "take public transportation" or "avoid single-use plastics," but Nya says it is much more. "Behavior-based tools help us, among other things, work with institutional decision makers to change practices, inform our policies to ensure they don't lead to perverse incentives, and catalyze the mental models that lead to virtuous feedback loops in systems."
Multiplier strives to work with projects that think aggressively about their outcomes. How can their projects bridge the chasm between building knowledge and skills and changing behavior? With "Making Shift Happen," Root Solutions has provided a primer to do just that.
A Gold Standard for Achieving Behavior Change
Making Shift Happen, which lies at the heart of Root Solutions' groundbreaking tools, is a roadmap for catalyzing behavior change that tackles our most urgent environmental problems. This book is a game-changer in the realm of sustainability.
With evidence-backed strategies and practical tips, Making Shift Happen serves as a workshop-in-a-book so anyone and everyone — individuals, businesses, government, foundations, policymakers, etc. — can successfully navigate the complexities of sustainable decision-making.
Making Shift Happen provides A-Z guidance on designing behavior-based initiatives, messaging, and policy. Still, even if readers only use one or two tools from this book, their work will be more successful. This was showcased when Virgin Atlantic, a British airline, implemented simple and inexpensive behavior change tools outlined in the book; it dramatically reduced their emissions of greenhouse gasses and pollutants and created savings of over $5 million on fuel in just a matter of months.
The lessons in Making Shift Happen allow the reader to join the ranks of behavior change "catalysts" with the know-how to create a behavior change initiative from its design to implementation.
Maintaining Momentum Towards a Sustainable Future
Root Solutions is renowned for their innovative and evidence-based approach to behavioral change. They provide conservationists and policymakers with tools and resources to create more effective campaigns, policies, and strategies that accurately reflect how people make decisions.
Since its inception, Root Solutions has partnered with over 100 public and private organizations to reduce carbon emissions, protect wildlife, conserve water in drought-prone locations, minimize resource consumption, improve transportation systems, and clean up plastic pollution in our oceans.
With the principles of Making Shift Happen at the root of their mission, the project focuses on deep capacity building and peer training that empowers individuals, organizations, and institutions to lead successful behavior change campaigns to inspire a greener, more sustainable world.
Root Solutions provides opportunities for individual changemakers to design a behavior change initiative collaboratively and alongside experts in in-person and online Behavior Change Masterclasses. The interactive training goes beyond theory — participants learn practical strategies that they then apply to their areas of interest and take back to their communities.
Multiplier is proud to uplift Root Solutions and their work in training the "shifters" of the environmental movement. As we celebrate Root Solutions' well-deserved Nautilus Award, we join them in their mission to catalyze behavior change that creates a better world today and for the future. Let's embrace environmental behavior change as a tool to inspire green actions by joining the movement to make shift happen: